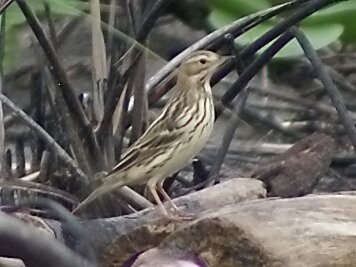 On 28 March 2008 we visited the coast north of the village Rio Verde, Esmeraldas province, Ecuador (1°04'34 N, 79°24'48 W) to look for day-roosting Lesser Nighthawks Chordeiles acutipennis. They are often found along the beach, in particular where wooden branches are washed ashore abundantly. After having flushed two individuals at about 10 am, our attention was drawn by a small terrestrial passerine that we immediately recognized as a pipit Anthus sp. The bird was foraging solitary at the floodmark in-between the washed up material. The pipit was alert and turned out to be very shy when we tried to approach it. It flew off several times, thereby giving a loud pssssssii call. After a short flight the bird usually landed back on the ground at ca. 100m distance and started foraging again. In two occasions it landed on top of a little bush and perched for a few minutes. Eventually, we were able to take some digital photographs of the pipit at ca. 10m distance (cf Dutch Birding 30: 267, 2008).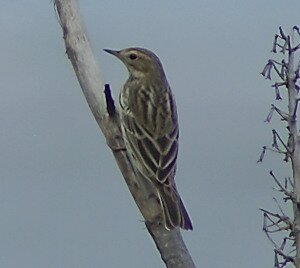 In the field we could not determine what species it was. The field guide of The Birds of Ecuador describes one species of the genus Anthus, the Paramo Pipit
A. bogotensis
, which is typically found in highland habitats, usually above 3000m elevation (Ridgely & Greenfield 2001). Therefore, we assumed that we were dealing with a North-American vagrant. Photographs of the bird were posted on the internet and with the help of American and European ornithologists we identified the bird as Red-throated Pipit
A. cervinus.
This is the first record of Red-throated Pipit for Ecuador and South America!
Dušan M. Brinkhuizen, Lazar Brinkhuizen, Andrew Keaveney & Sarah Jane