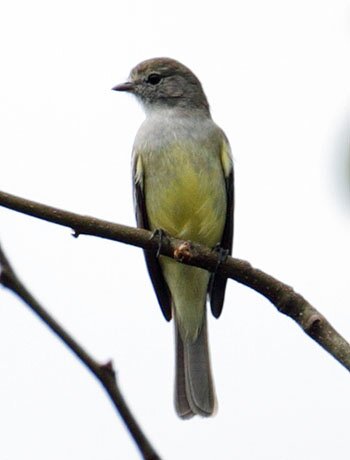 A Southern Scrub Flycatcher Sublegatus modestus, a new species to Ecuador, was found by Jonas Nilsson on 11 June 2012. He saw the bird along the dirt road leading up to Pacto Sumaco, c. 40m south of the ranger station of the Ministerio del Ambiente at c. 1120m elevation. The observation was around 14:00 and lasted for about a minute. It was seen at a cleared area in a 8-9m tall tree on the eastern side of the road. It was moving around restlessly in the canopy of the tree, raising and lowering its crest.
Jonas: "I identified it almost immediately as a Scrub Flycatcher due to its very short, stubby, all black bill. We observed the bird (most likely an adult) in my Zeiss Diascope 85 T-FL, zoom 20-60x. The following characters were noted":
- fairly obvious dark thin eye-line, going through and behind the eye, with a slightly thicker pale (off-white) supercilium. No eye-ring. Eye proportionately fairly small looking, looked all dark.
- rounded normal-sized head when crest not raised. Head proportionately bigger compared to the body, than an Elaenia. Whit a raised crest it reminded a bit of a Southern Beardless Tyrannulet Camptostoma obsoletum. Crest was nice and tidy, not shaggy looking like on a Yellow-bellied Elaenia Elaenia flavogaster.
- clear yellow belly and undertail coverts contrasting with off-white/light gray chin, throat and upper breast.
- three very crisp white wing-bars, made up by wavy fringes on the tip of the coverts (on the photo you can clearly see that the medium wing-bar is the thickest, which might be distinctive for Southern Scrub Flycatcher, as Northern Scrub Flycatcher Sublegatus arenarum should have the thickest bar on the greater coverts). Pale white edgings on tertials.
- upperparts felt dusky greenish, fairly pale, kind of washed out.
- legs all dark, black.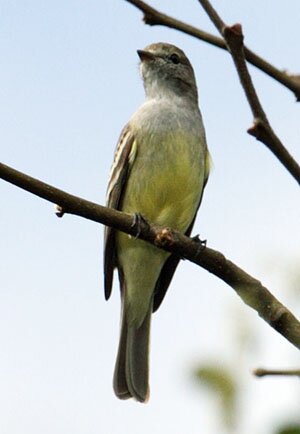 Three days later, on 14 June, (presumably) the same Southern Scrub Flycatcher was relocated further up the road by Nick Athanas and Scott Olmstead. The bird had come in to the call of pygmy-owl and Nick managed to photograph the record.
Another noteworthy record is that of a Large Elaenia Elaenia spectabilis seen on 12 June 2012 (again) by Jonas Nilsson. It was seen around 16:30 just opposite the Wildsumaco Biological Station (west of the dirt road) at c. 1520m elevation.
►Back to the News